Lible statue for Palamuse: sculptor outruns order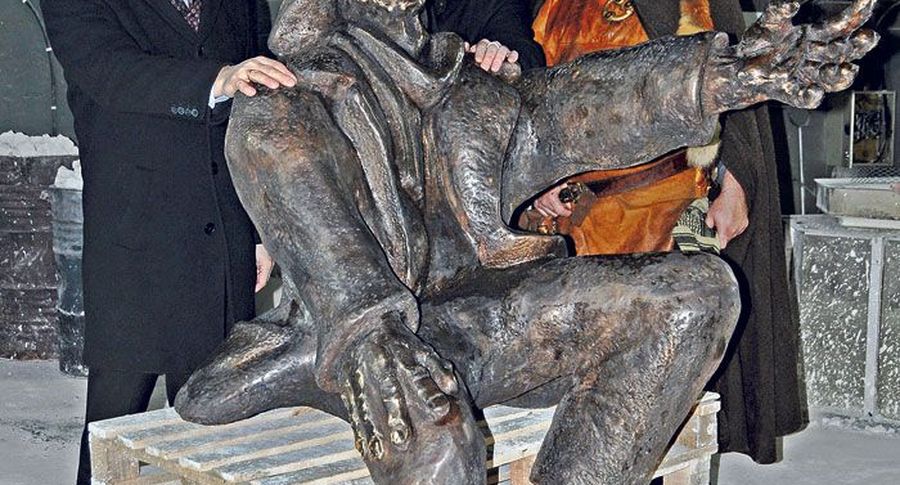 Preventing handshake by Palamuse folks and sculptor Tauno Kangro, the Lible statue to grace the town is already a finished work. The author was forced to hurry, he says. Due to bronzeworks studio timetable.
The bronzeworks studio's queues are long and time schedule tight. «Last November, however, a hole appeared in the schedule. They took the risk and did the casting,» relates author Tauno Kangro. The next chance for casting Lible would have been in fall of 2014 only, he underlines.
For non profit organisation Sokuturi, the engine behind giving Palamuse its bronze Lible, the birth of the statue came as total surprise. For they hadn't even orally agreed the timing of its making and payment, says Sokuturi board member Valdi Reinas. Now, they will have to try hard and find ways to buy Lible.
Not a case of extortion
In internet commentaries and social networks, the case is being mocked as statu(e)tory extortion. This is not the case, stresses Mr Reinas. «Lible statue has, from the start, been our desire. Mr Kangro has not pressed the case.»
The statue will cost around €30,000. Initial €15,000 has already been paid. It came as donations and grants given via Ministry of the Interior, pushed by Aivar Kokk, elected into Parliament from Jõgeva County.
According to Mr Reinas, county support has, up to now, been rather symbolic. A one-time small contribution came from the council, wherewith the Sokuturi people ordered souvenirs. Selling which, they may make money for the sculpture.
According to Palamuse county council head Toomas Tuula, Sokuturi has not directly applied for help to buy out the statue. Should such a desire arise, it will require deep discussions as the budget is tight. However, the council has indeed approved bronze Lible's coming to Palamuse.
According to Mr Reinas, the Lible-statue idea came up four-five years ago, as the county's tourism strategy was being discussed.
Mr Kangro was picked as author of a little statue that goes with the Oskar Luts humour award. According to Mr Reinas, Mr Kangro got all stirred up by the proposal and soon arrived at Palamuse, a plasticine-statue in hand.
With Mr Kangro by his side, Mr Reinas took a walk to the Paunvere School where most of the iconic Spring movie (Kevade) was shot. By Amme River side, they reckoned, Lible might enjoy watching the children play: rafting in summer, skating in winter time.
The Luts Museum head Arne Tegelmann, however, did not agree. It was decided that the statue would stand in front of the pharmacy.
According to Mr Tegelmann, statues of a teacher, sexton or student have been considered next to the school. «Lible had nothing to do with the school, whatsoever,» the museum head stated. And so Mr Tegelmann told Mr Reinas and Mr Kangro: statue no good close to school. «Palamuse has no statue of Mr Luts, no statue of any Kevade figures. Why Lible, all of a sudden?» he wondered.
Honouring Kiisk
Last fall, Mr Kangro was already able to show locals the full sized polyurethaneversion of the statue, at its future place – warmly received. «At the reservoir, all passers-by would behold it,» considers Mr Reinas, indeed deeming the pharmacy site better. Perhaps.
The statue's resemblance to actor Kaljo Kiisk, who played Lible in the Arvo Kruusement motion pictures, is an on-purpose-approach, according to Mr Reinas. «This way we also honour the actor Kaljo Kiisk.»
Mr Kangro cannot understand the critics claiming that a statue is being erected for a drunkard. «They, apparently, have never read [the novel] Kevade,» thinks he. In Mr Kangro's view, Lible was, first and foremost, a romanticist and philosopher, but also philosopher.
The Lible statue
• Bronze sculpture in remembrance of author Oskar Luts and a main character of his, Lible.
• Planned to be standing in front of Palamuse pharmacy, on bank of reservoir.
• To cost about €30,000.